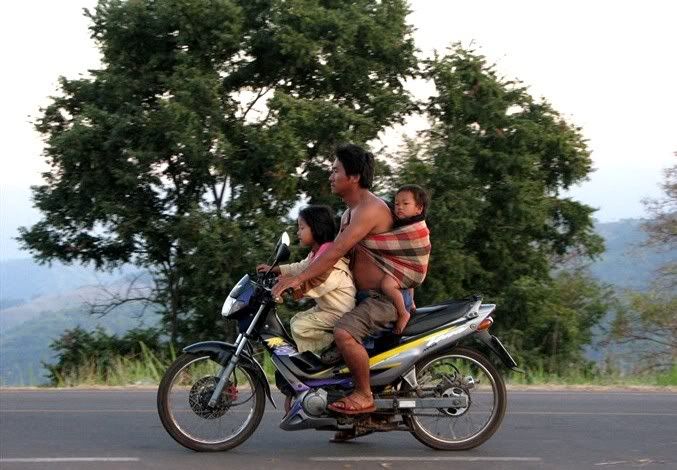 So I was reading through some of my old blog entries from a year or two ago, and I came across this picture, which I thought I would share. The photo is from Thailand, and it really made me ponder how different our cultures are. I actually had a terrifying nightmare a while back--I could not find my ring sling. Or a pouch. Or the mai-tei. Or a moby, the ellaroo, or any long piece of fabric to tie knots in. In the dream, I grabbed a sweatshirt and tried to tie Esme to me, that's when I woke up.
When Esme and Eva were younger, I wore them for an average of two to three hours a day. It made life so much easier. I could get chores done while they tagged along or nursed. I did not have to worry about them getting into something they shouldn't. I could play with them, talk to them, sing with them while we did whatever needed to get done. They were constantly part of my life and were exposd to so much. They were always learning! Even now that Esme is two years old, I still wear her, especially if she is tired or in need of mama-love and I still have chores to do or errands to run.
But let me tell you, having an older child, I cannot fathom staying sane without babywearing. It is soooo easy to not have to worry about picking one up and having to find a place to put the one down to pick up the other one. I can wear Esme and pick up Eva at the same time without dropping one or the other. We all can go to the park and swing together, Esme in the pouch or ellaroo, tagging along for the ride (don't worry, I don't go too high). How would we go to crowded school events with a squirmy toddler? Or worse--a gigantic stroller that everyone has to squeeze past or trips over? And almost every day, I learn something new about babywearing--especially like a new position to wear Esme as I do this or do that. There are so many things I can do because of babywearing. And not once in four years of babywearing have I regretted it! I wonder how I could live without babywearing!
Not only does babywearing make life with an infant/toddler convienent, it also has added developmental benefits. When an infant is worn, he is close to his mother, and is able to nurse on demand in an environment that extends the sensation of the womb. The gentle movements of the mother (or father) and the closeness remind the baby of the movements he lived with for nine months in the womb, making for a more content baby, and often lulling baby into a peaceful, uninterrupted rest. Wearing a baby also keeps the baby close when in public, keeping strangers and potential germs at bay and keeping a toddler from wandering away. Also, babywearing helps babies developmentally by encouraging strengthing of neck muscles in the early months, and, because they are at an adult level, they are more easily able to observe what is going on around them and participate in life, which promotes social development and extending entertaining activities.
The environment also benefits when parents decide to babywear. Baby carriers generally contribute less envirnmental impact than other manufactured baby products some parents use, including plastic and metal swings, playpens, strollers, bouncy seats, activity centers, etc. Baby carriers are also substantially cheaper than many of these items, saving your pocketbook, as well.
Now, I was a dedicated slingin' mama when Eva was young, and I wore her until she was nearly two, but I did not discover the wonders of other babywearing devices until I was pregnant with Esme.
There are four main styles and several good name brand carriers available, though many WAHMs (work at home moms) make slings and sell them at very reasonable prices (which is a major plus if you want to pick out your own fabric!).
The first, and most common, type of carrier is the Ring Sling. This is basically a piece of fabric with two rings sewn at one end. The rings sit just below your shoulder. The fabric wraps around your back and across you like a sash and then feeds through the rings. The baby sits in the sash part. The pros of the ring sling are that it is very adjustable and can fit a variety of sized people, allows for a number of holds, it is easy to pop the baby in and out, and the sash/tail provides good coverage for nursing. Cons, the one-shoulder carry can be hard on your back, especially as the baby grows. The beautifully hand-woven
Maya Wrap
is my favorite, though the following picture is of me wearing Esme in a WAHM sling.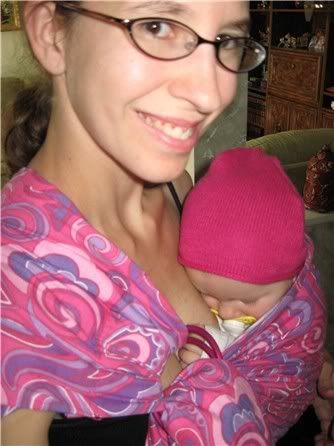 The second type of carrier, and the style I use most often because it is quick and easy, is the Pouch, which is a sewn fabric loop that you wear across you like a sash. When folded and worn, the baby fits into the "pocket" of the pouch. It looks a lot like the ring sling with out the rings or tail. Pros: easy to use, easy to get baby in and out quickly (great for rushed errands), allows for a number of holds, folds compactly and fits perfectly in the diaper bag, easy to nurse "discreetly" with practice. Cons (depending on how you look at it): it is not adjustable, but it is custom sized to fit one person perfectly (which is what I actually like most about it—I never have to readjust it); also, the one-shoulder carry can be hard on your back. The most common brand is Hot Slings
http://www.hotslings.com/
(limited patterns are available at Target), but a friend of mine makes beautiful pouches; the following is a picture of me wearing Esme in one of her creations.
The third type of carrier is the Asian-style Baby Carriers (Mei Tais, Onbuhimos, and Podaegis fall into this category). The Mei Tai is a Chinese baby carrier. It is the carrier that most closely resembles the Bjorn, though it is pretty different. It is essentially a square of fabric with waist straps and shoulder straps coming out. The square is the baby's seat, and the straps are tied around the babywearer. The Mei Tai is far more adjustable than a Bjorn and does a much better job of distributing the baby's weight over your body. You can carry much larger babies much more comfortably and in several different positions. It also holds the baby's hips in a far more ergonomic position. Onbuhimos and Podaegis tie differently but are similar to Mei Tais in many ways. Pros: easy to use, comfortable, cool for hot summer days, the two shoulder straps helps to distribute weight more evenly, easy nursing, one size fits most. Also makes for the fastest and most secure back-carry. Cons: the straps often hit the ground before you get the carrier tied (ick factor), takes more time to get baby in and out, awkward to wear without a baby inside. If you decide on an Asian-style Baby Carrier, look for one with wide straps, which are far more comfortable than narrow straps! For a while, the most sought after Mei Tai for me was
Babyhawk
, but I prefer Maya Wrap's Maya Tie much more! Here is a picture of me wearing Esme in a homemade Mei Tai: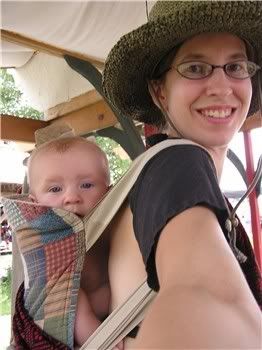 The final style is the Wrap. The Wrap is far and away my favorite carrier style. Wraparound style baby carriers are just one long strip of cloth, 18-30" wide, in varying lengths, made of different types of fabric. There are three main fabric types: stretchy (good for new babies, because it is comfy and poppable; try
Moby Wrap
), woven (all around wrap, supports more weight and distributes weight well; brands include Didymos, Storchenwiege, Girasol, Easy Care, Bebina, Lana, Hoppediz, and Ellaroo) and gauze (cool, comfortable and THIN, which means it is perfect for summer heat and humidity, transporting in the diaper bag, and perfect for back carries; try the beautiful
Gypsy Mama Bali Baby Breeze
). Whatever you do, do not buy the Ultimate Baby Wrap from Babies R Us, as it is extremely stretchy and does not provide nearly enough support and comfort. Pros of the Wrap: super comfortable, flexible, one size fits most, works for more holds than any other carrier, can be worn without the baby, comfortable for long babywearing excursions and for wearing toddlers and young children. Cons: major learning curve—it takes a lot of practice, there is a lot of fabric to juggle. I specifically like the Ellaroo. Here is a picture of David wearing her in a Maya Wrap: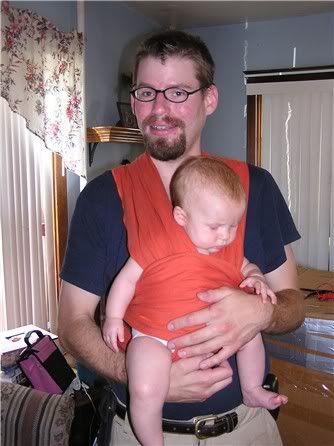 And a picture of me wearing Esme in my favorite, my woven Ellaroo:
There are also structured carriers like Ergo or Beco. Some people I know really love these, especially men, as they have clips or buckles instead of straps to tie or lots of fabric. I can say for sure that if it is a choice between a Bjorn and an Ergo or Beco, do not take the Bjorn. You can find a ton of resources at
http://thebabywearer.com/
, including galleries, videos, instructions, and reviews. Etsy, eBay, and Craigslist are good places to hunt for WAHM-made slings at reasonable prices, as is
http://www.thewahmmall.com/
. I have coupon codes for a ton of babywearing sites, so if you find something you like, I will see if I have a discount for it. And, so you know, a lot of the name brand slings and wraps hold their value well for resale when your little one grows out of it (especially Ellaroo, Maya Wrap, BabyHawk, Ergo, and Beco)!